Inclusive cycling opportunities on show at UK side events
11/09/2018
The #NowWeBike #BikeForEurope tour unfortunately cannot visit every European country, our riders are passionate and determined, but not superhuman! However, just because the tour is not passing through Britain has not stopped our partners from across the channel getting involved and showing their support for the riders and the cause.
Last week there were multiple Bike for Europe side events taking place in the Northern English county of Yorkshire. With the county's rich sporting history and love of cycling there cannot be many places more fitting.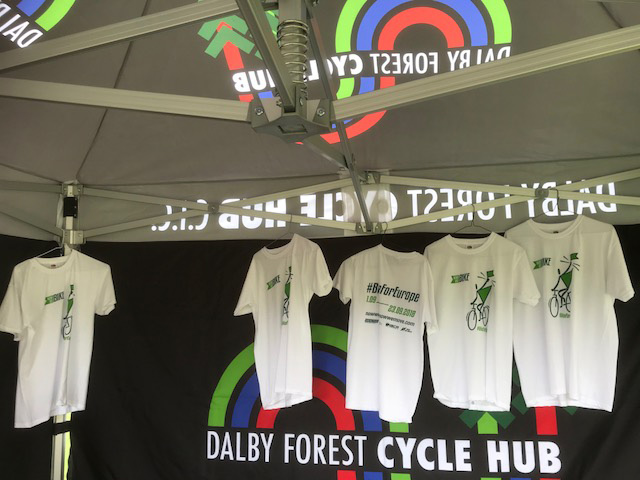 Our partner Scarborough and Ryedale Community Cycling helped promote inclusive cycling with three events last week. On Thursday they were in attendance at Dalby Forest cycling hub in the beautiful North Yorkshire moors, where an adapted bike day was held! Anyone could come along and try out a range of adapted bicycles, which allow people who otherwise may not be able to enjoy the chance to feel the joy of cycling an opportunity to get pedalling, be more mobile, and more independent. The bikes that were brought along catered for a range of disabilities, and showed people that cycling is not limited to the use of feet or just two wheels.
Then kicking off the weekend came the Sight Support Group event. This is a semi-regular event organised by Scarborough and Ryedale Community Cycling, which give the opportunity for people with visual impairments to safely get in the saddle and enjoy cycling, often with the use of volunteers and tandem bikes.
On Sunday there was then a Family Fun Day at Dalby Forest cycling hub. Despite the miserable weather many families braved the conditions to enjoy a fantastic day based around cycling. Numerous "Frog bikes", lightweight, all terrain children's bikes, were available to use, and the children in attendance took great joy in trying out the different bikes, swapping between them, and socialising through cycling! But that was just one element of the day, an obstacle course for the children (and a few of the more adventurous adults!) was in place all day, which allowed everyone to test and improve their cycling skills, but most importantly get moving and enjoy cycling together.
It proved to be a fantastic week of events for all who attended, getting more people to experience cycling irregardless of their age, gender, experience or ability, showing that cycling really is for everyone.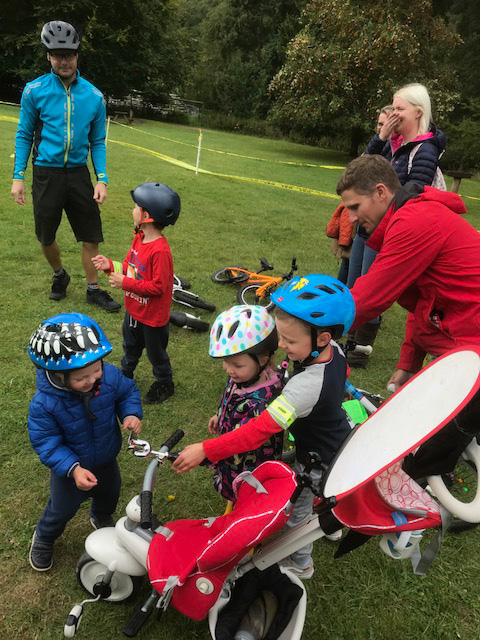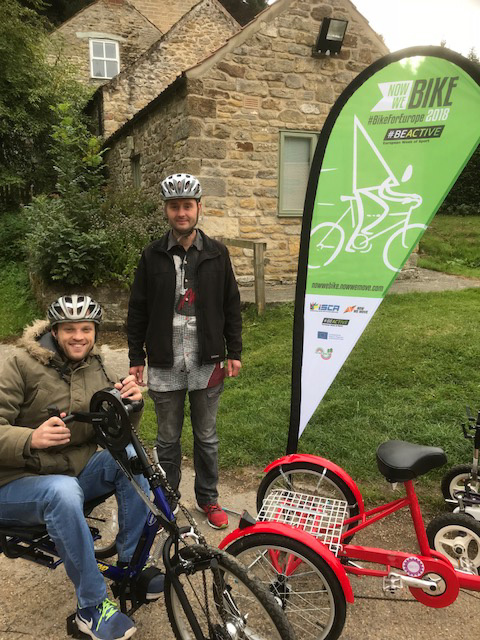 However, it is not just during #BikeForEurope that partners Scarborough and Ryedale Community Cycling work hard to promote inclusive cycling. They provide cycling opportunities for everyone, including those with a disability, those with temporary mobility issues, the elderly, those who suffer from dementia or isolation and anyone else who wishes to gain the health benefits that cycling can provide. They also have an inclusive cycling centre that is mobile, flexible, and ensures that people who need adapted bikes are able to get them.
An emphasis on getting children cycling is also key to their ethos, with a bike club scheme in place which engages with local youngsters to encourage them to channel their energy into cycling related activities.
Another innovative and inclusive scheme ran by Scarborough and Ryedale Community Cycling is the "Bike Library", where old or unwanted bikes are donated, before being repaired before being loaned out to children and families for free! But it is not just the bikes themselves that they provide. With experienced and qualified instructors they help people become confident, capable and sophisticated cyclists themselves, and therefore get the most out of cycling.
Initiatives like these are at the heart of what #BikeForEurope is all about, and we hope to see more spring up around the continent to help get more people from across all sections of society in the saddle.
Read more here: http://www.srcommunitycycling.co.uk/home/4587426646