1 week to go – North Team reaches the Czech Republic
17/09/2018
We follow the North Team to Prague through the eyes of team member Laura Eylen, where tricky roads, a bazar, the EuroVelo festival and beautiful scenery awaits.
11 September – Cycling advocacy in Frankfurt and dinner by the campfire
This is important day because a half of our tour is done! Today we had a meeting with the 'Radentscheid Frankfurt Am Main' group. They are promoting bicycle usage in Frankfurt and advocate towards the government – that's why they are collecting signatures from local citizens in Frankfurt with the purpose of changing the infrastructure of the city and making it more suitable for cycling. We had a short 'city tour', and then it was time for our first night of camping in Bayreuth. We had the whole campsite to ourselves! We made a fire and baked our dinner on the grill. The night was pretty cold but we woke up with the sun and a blazing hot 30C degrees was on our faces all day.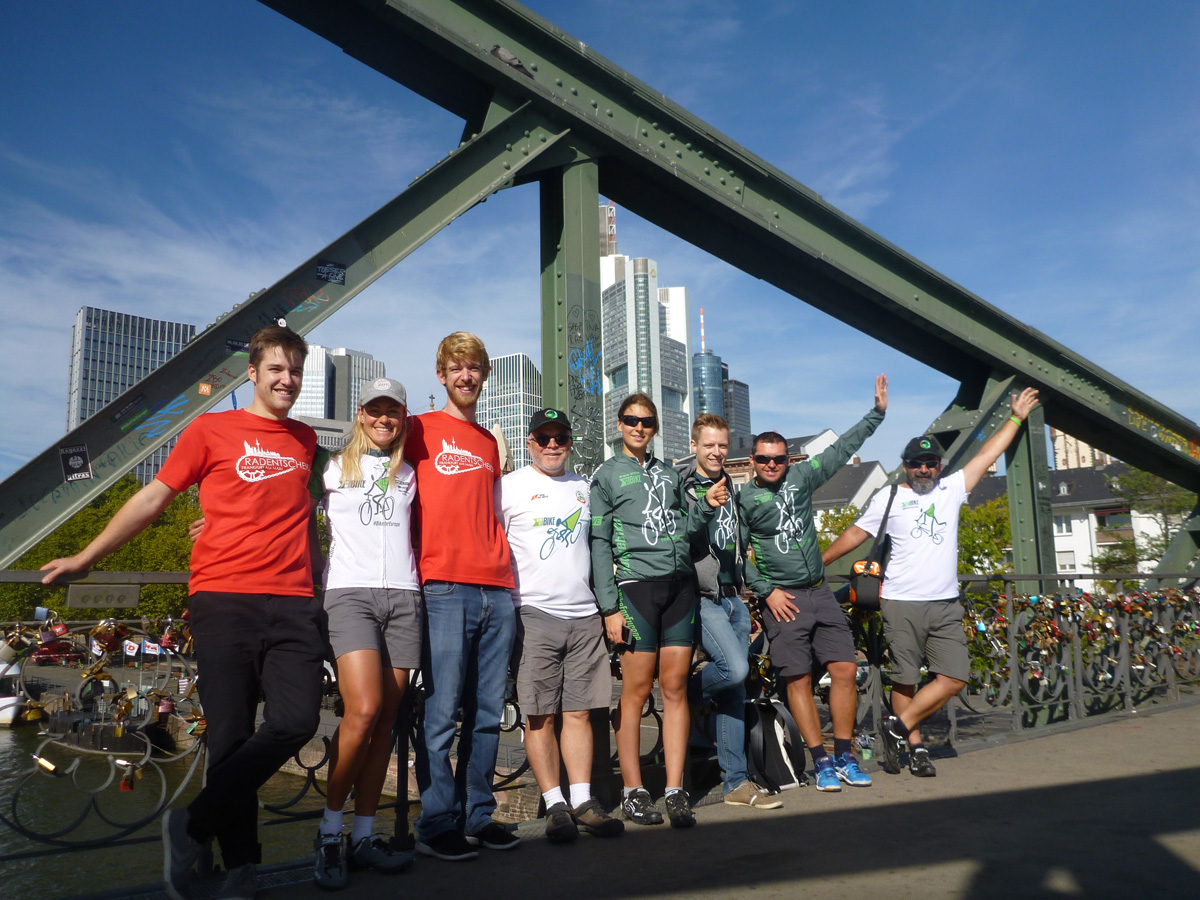 12 September – Czech Republic just around the corner!
Our first breakfast at the camping site! We cooked some eggs, which was a good start to the day. And here we go with the never ending hills! We survived the 1250 elevation and 88.3km is done. We have passed the border of Czech Republic and we are in Cheb. From Cheb we are going to Pilsen where we are going to stay for a night.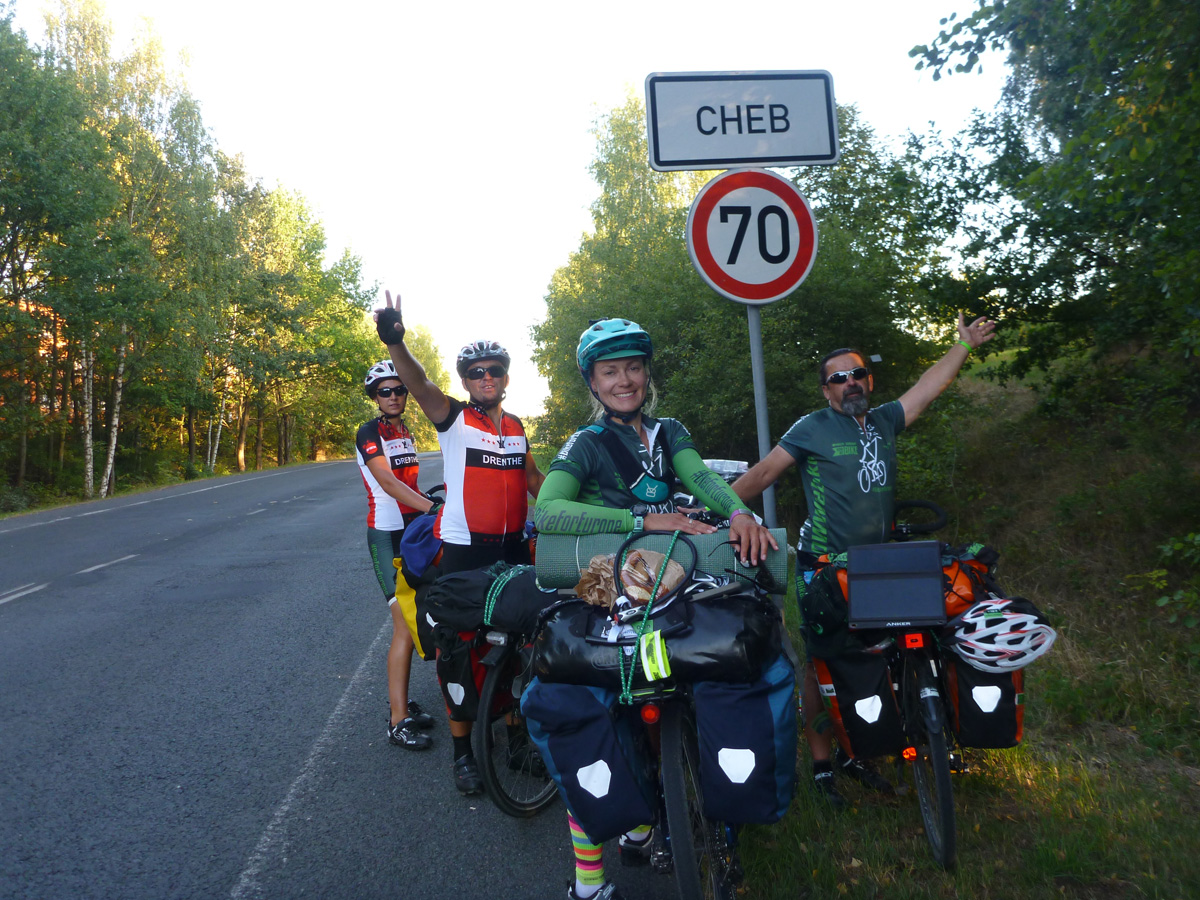 13 September – Dangerous traffic conditions don't stop our team
We are heading to Beroun today. Breakfast in the hotel starts with rain so our waterproof pants and jackets are ready!! Our maps don't find any options for bicycle roads so we are forced to cycle along roads for cars. A crazily scary moment as we are cycling in the rain next to the car traffic and feeling water splashing from the big trucks into our faces! Luckily we finally reached our destination. The city is very beautiful with its small streets in the old town, bridges and parks. Our hotel is a bit on a hill so we have a nice panorama. A relief after an intense day!
September 14 – A rare break and ferry ride into Prague
We are so excited because today we are going to Prague! We are staying in the city for three days. After breakfast we say goodbye to Peter, who has been so nice to us since we met him at the hotel which belongs to his family. No rain at the moment, which makes us feel more relaxed. Today we have only 35km to ride, so we had more sleep and we will go out on the road with no rush.
We arrived at the island in Prague, which is called Cisarska louka, and to get to the city centre we had to use a ferry. It was a small challenge as the ferry was too small to fit all of our bikes. But we managed it! We met with Daniel Mourek, the coordinator of EuroVelo in Prague. We ate dinner together and tried the traditional baked cheese and it was very delicious! Then we had a walk with Daniel who showed beautiful places around the city.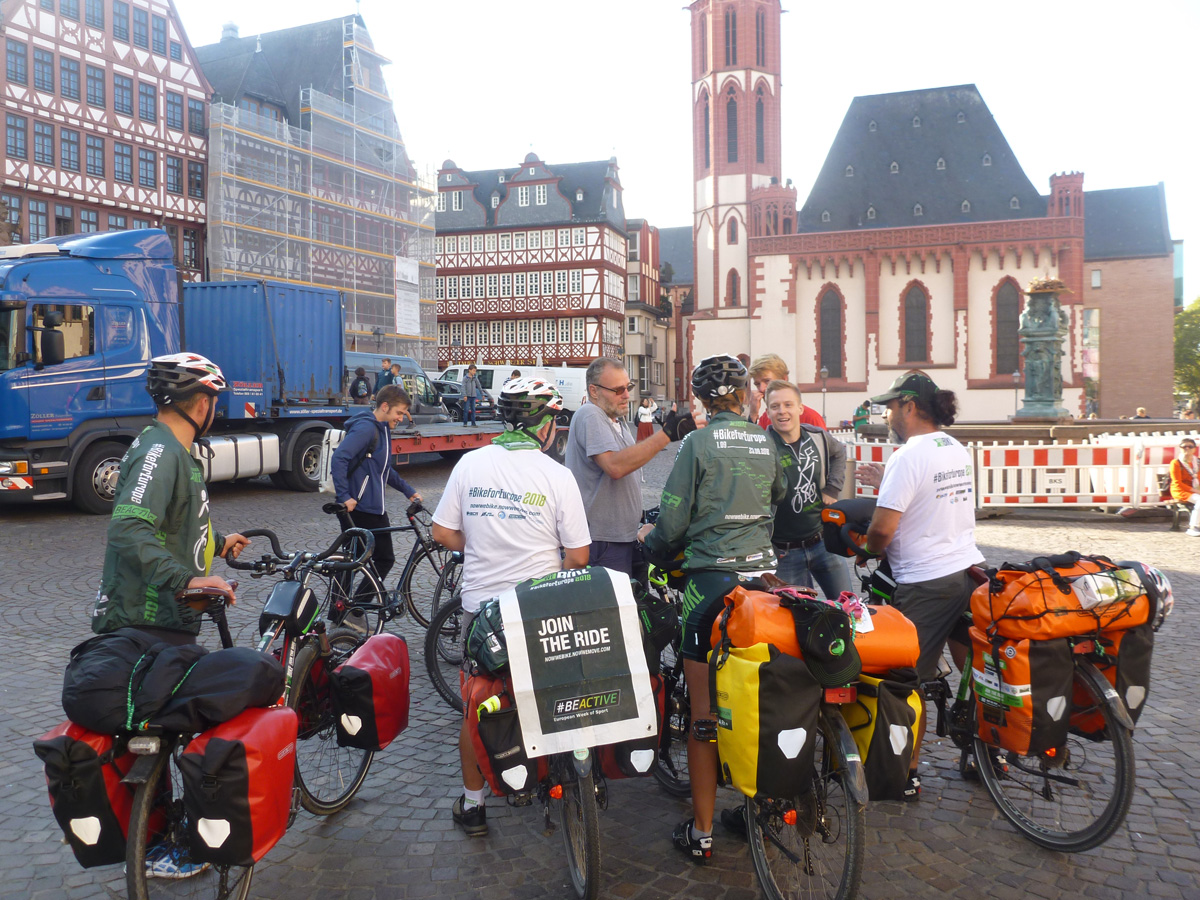 September 15 – Care free days and bike to work schemes taking off in Prague
Today the city is full of sound! There was a big bazar where you can buy fresh vegetables, fruits which come from villages, homemade bread, dried apples and much more! I couldn't resist and bought some pears. It is so nice to have a bazar so close to the city centre!
Daniel Mourek invited us to an event where his campaign had a stand with EuroVelo and his partners presented e-bikes. They want to make e-bikes more accessible to people in Prague. It is planned to make stations for bicycles where people can leave them after using. The bicycles will be charged at the stations and a full battery can last up to 120-140km.
The bike movement in Prague started with a car-free day and now many more organisations are involved in bike to work and healthy food promotion, in addition to fighting smoking, alcohol consumption and pollution.
After the EuroVelo event we couldn't decide where to go as there were so many stages with concerts and other workshops to see. We had free time until the evening so I visited the National Art Gallery, Galerie Fuchsova Kavarna, Letenske Sady (park) and also managed to fit in a wonderful cycling trip next to the river. I know – I even cycled on my day off!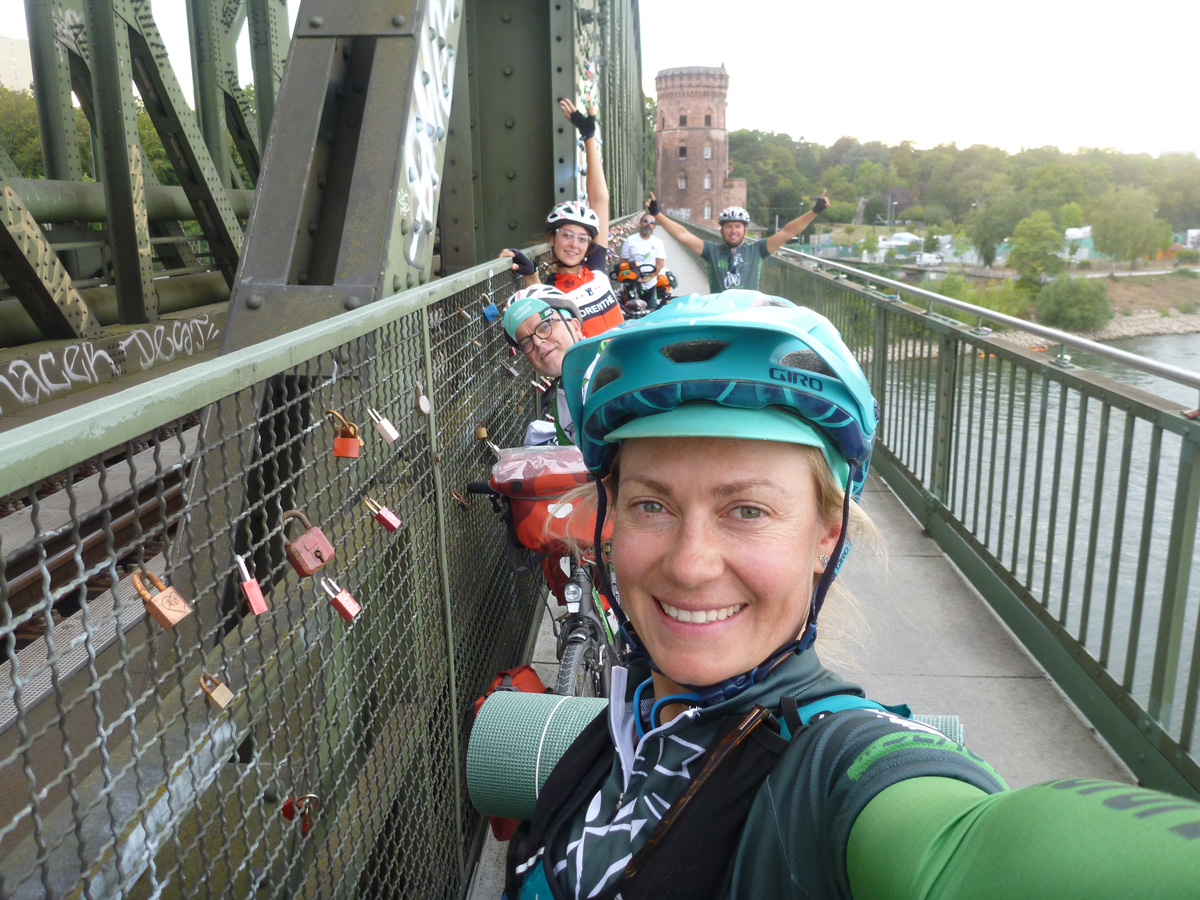 September 16 – Local cyclists join the team for a picturesque EuroVelo ride
Today we have a meeting with local cyclists and other people who work at EuroVelo together with Daniel Mourek. We cycled along EuroVelo route no. 4 and met Mirek Prokes, who was our guide for the day. He introduced to history of Prague, and we visited the Jewish quarter and the oldest synagogue in Europe, which is still used by Jewish people for praying and other rituals.
After the tour the local cyclists offered to cycle with us for about 10km more to the other side of Prague. We cycled together along EuroVelo route no. 7, and it was so nice to see lots of people cycling and lots of families with skates! This route passes through beautiful nature with a great view of the river. We had our lunch at the stop next to the cycling road. Then we headed back to the centre along EuroVelo route no. 4.
Time to rest and prepare for tomorrow as hills and more than 100km is waiting for us!!